"Ahhhwuuuuuh..." At Mehringdamm in Berlin a terrifying howling has been heard night after night for some time now. Rumour has it that a pack of werewolves is up to mischief - and is satisfying its bloody hunger thanks to an innocent Berliner. But the inhabitants do not remain helpless and set out to fight the werewolves. 
Normalerweise findet einmal im Monat ein Teamevent bei Warehousing1 statt. Doch Covid-19 zwingt uns, unser Event in den virtuellen Raum zu verlagern; es ist Kreativität gefragt! Die Idee: Das Werwolf-Spiel. 
Wie auch Ihr Covid-19 entgehen könnt und einen lustigen Abend mit dem Werwolf-Spiel gemeinsam virtuell erleben könnt, zeigen wir Euch jetzt. 
What is it and what is required?

Actually not much. There are two groups besides the moderator: Werewolves and inhabitants. The inhabitants are differentiated by different roles: 
1 Moderator:

He directs the game and gives instructions

2-4 Werwölfe:

They consult each other night after night who they will kill next. They wake up in the first night phase and recognize each other. During the day they pretend to be normal Berliners and have to hide their true identity.

Normal Inhabitants: no special skills
1 Seer: Every night she finds out the identity of a Berliner and can thus determine who is a werewolf. However, she must keep her identity secret, otherwise she will become a victim of the werewolves herself
1 Sommoner

She may choose one player each night who must remain silent the next day.

1 Amor:

He only wakes up on the first night and chooses a pair of lovers who need to be kept secret. If one of them is killed, the other dies because of the broken heart. 

1 Cursed One:

Er beginnt das Spiel als normaler Berliner, doch sobald die Werwölfe ihn angreifen wird er ebenfalls zu einem Werwolf. Jede Nacht wird er vom Moderator aufgerufen, der ihm durch "Daumen hoch" erklärt, dass er noch ein Berliner ist; "Daumen runter" bedeutet, er wurde zum Werwolf

1 Cult Leader:

Jede Nacht wählt er einen Berliner, der sich seinem Kult anschließen muss. Er gewinnt, wenn alle lebenden Spieler am Ende seinem Kult angehören
Je nach Variante und Größe der Spieleranzahl gibt es weitere Rollen. Die erwähnten können ebenfalls noch angepasst, weggelassen oder ergänzt werden.
Goal and Procedure of the Game 
Clearly, the werewolves want to quench their thirst and kill as many Berliners as possible. The goal is to identify and kill all werewolves so that the haunting is finally over. 
There are night and day phases. At night the werewolves meet and decide who will be their next victim. In addition, the seer wakes up to gather information about the Berliners; this way she can also identify the werewolves during the process of the game.
The 1st Night
During the night phase all players sleep and close their eyes. It is important that everyone participates to keep the game fair. The moderator now has his say: 
"All Berlin people of Warehousing1 fall asleep. All players now close their eyes. The werewolves wake up and look at each other."
Es sollten sich nun die Mitspieler als Werwolf erkenntlich zeigen. Sie planen nun ob und wen sie in der 1. Nacht töten möchten. Sie schließen wieder ihre Augen. Danach ruft der Moderator einzeln andere Rollen wie die Seherin oder den Verfluchten auf. Der Tag bricht an und alle erwachen. Nun beratschlagen sich die Dorfbewohner, wer wohl ein Werwolf sein könnte. Durch eine Abstimmung wird entschieden, wer zu den Werwölfen zählt und demnach getötet wird.
Of course there are some special rules to be observed. Therefore it is worth reading the detailed instructions here. here die ausführliche Anleitung durchzulesen. 
How to: Remote
Vor allem in besonderen Zeiten wie jetzt durch Covid-19 eignet sich das Werwolf-Spiel ideal. Am besten nutzt Ihr Euren bevorzugten Videokonferenz-Anbieter, z.B. Google Hangouts Meet. e.g. Google Hangouts Meet. Just make sure you're on 'mute' if necessary, so that there is not a lot of background noise. 
This is how it looked like at Warehousing1: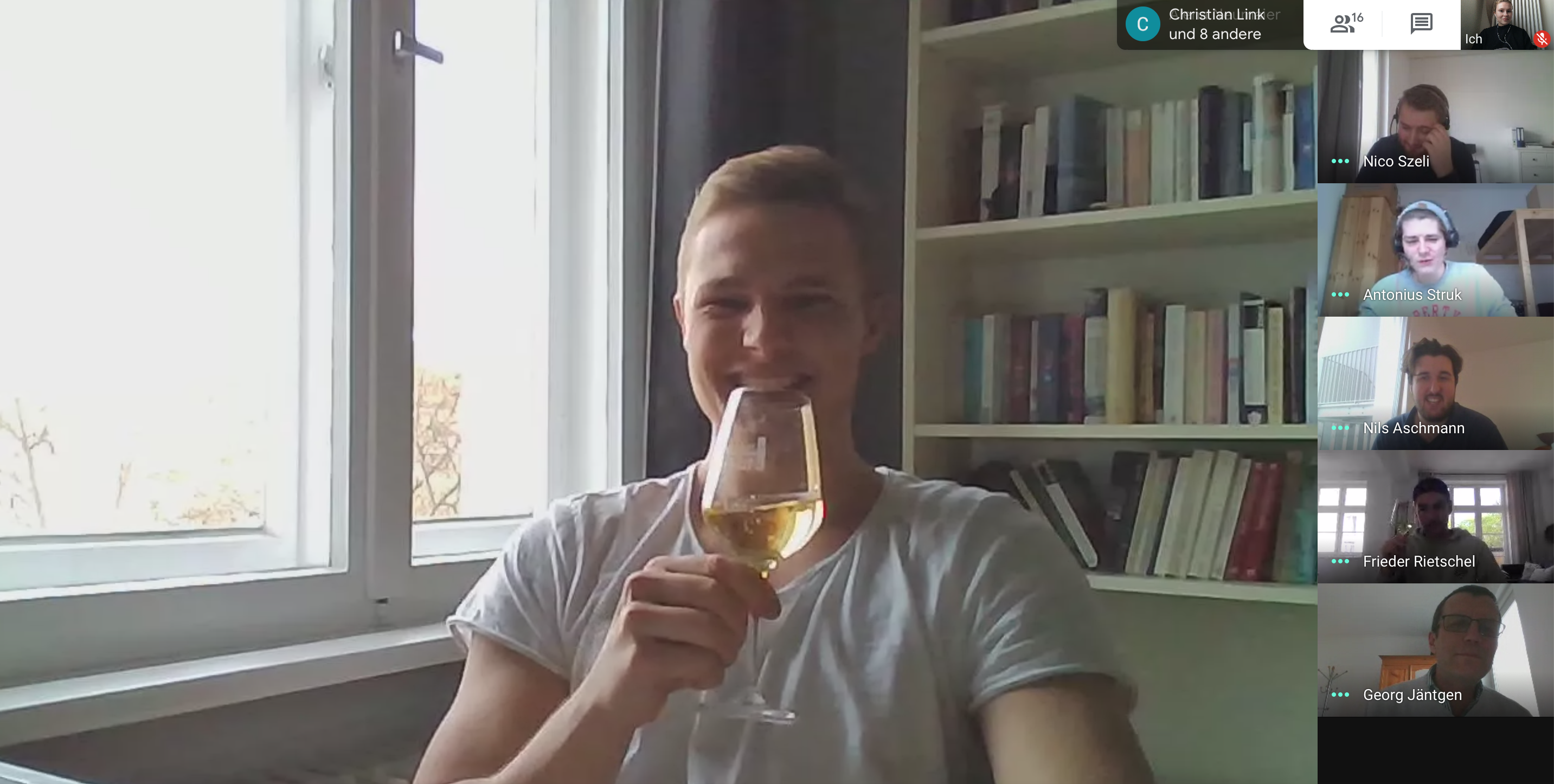 Besides wine and beer there were also pizzas from our three Warehousing1 founders. Thanks for that! 
Helpful hints for the Remote - Version
The following tips will help you and your team to implement the game easy in the virtual space
If you don't have anything to say, you better set it to 'mute

use group chat for voting (e.g. who is suspected to be a werewolf), this serves the clarity

The moderator writes to everyone by the private chat, which role they have taken, so that the others do not notice 

Create extra group chat for the werewolves, so they can talk freely about the next "murder"

As soon as a fellow player is declared "dead", he can either continue to follow the game silently - or you open a second video call for the "dead" and suspects. 

Enjoy wine, beer or a drink of choice l
We at Warehousing1 tested the game in our home office and can say that it gave us a lot of fun and variety. So, let's go hunting!