E-commerce trade is becoming increasingly important as a sales channel in the fashion industry. German retailers now generate almost 40% of all sales via online channels (source: https://einzelhandel.de/online-monitor). And the trend is rising. Constantly changing fashion trends, high return rates and the sensitive quality demands of fashion customers pose new challenges for textile logistics and fashion fulfillment - and require special attention and services in terms of fulfillment. But how does competent fashion fulfillment work and what challenges does this type of textile logistics actually entail? That's exactly what we want to enlighten you about in this article.
Table of contents:
What is textile logistics?
Basically, the term "textile logistics" refers to all products made of textiles. Therefore, actual textile logistics goes far beyond classic fashion fulfillment. However, the terms are often used synonymously in common parlance. In the true sense of the word, however, textile logistics refers to the storage, picking, packing and shipping of all goods made of fabric - including not only fashion but also textile products such as pillows, curtains and bed linen. Textile logistics is characterized by frequently changing collections and products, extremely short delivery times and high sensitivity of the goods.
Shipping and returns in textile logistics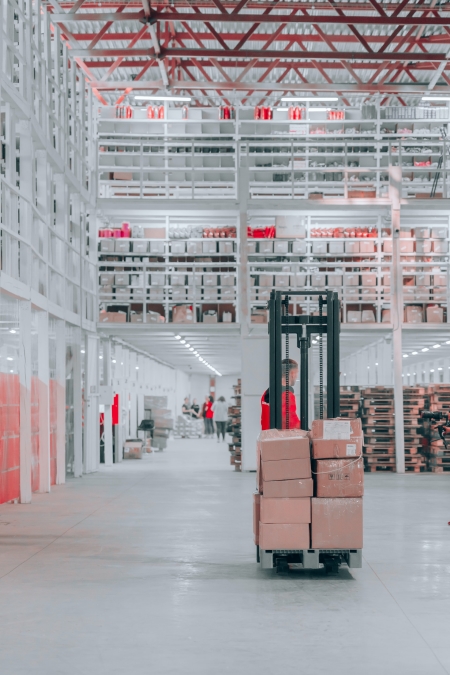 New shopping options such as social commerce are making it easier and easier for consumers to buy new products. It only takes a few clicks and the new favorite item is already shopped. Today's customers therefore order products spontaneously and expect the fastest possible shipping or, at best, even services such as next-day delivery. Shipping therefore plays a central role in the fulfillment of fashion products. In addition to the quality of the actual products, brands must also assert themselves against any competitors with the packaging. Many brands and e-commerce online stores like to use special premium packaging or small giveaways to offer their customers the best possible unboxing experience. With a compelling unboxing experience, retailers inspire their customers to share the moment on social media and promote it. Many customers often order different sizes in order to try on the products at home at their leisure, with the intention of returning the unsuitable items. Of course, this return process should also be as quick and uncomplicated as the actual shipping.
Textile preparation in fashion fulfillment
A high returns rate in fashion e-commerce presents retailers and fulfillment service providers with special challenges. Textiles are generally comparatively sensitive goods, and end customers are particularly demanding when it comes to quality in the fashion sector. For this reason, the reprocessing of textiles plays a central role in fashion fulfillment. In the event of a return, the goods are professionally reconditioned by special fashion fulfillment service providers and prepared for further sale at the point of sale or for e-commerce. This so-called "textile preparation" includes, among other things, steaming, ironing or repackaging - to name just a few examples. In this context, e-commerce operators and fulfillment service providers discuss all criteria for the preparation meticulously in advance to ensure the highest possible satisfaction of all customers.
For which customers is professional fashion fulfillment suitable?
Fulfillment solutions specifically designed for fashion are particularly suitable for brands with products in the mid- to upper price segment and with a high volume of orders. This is because end consumers expect a certain standard of quality, not only for the products themselves, but also for customized shipping solutions and individualized packaging. Furthermore, constantly changing fashion trends and the associated collection changes also represent a major challenge. This is where an external logistics provider who can reliably map frequent changes in the product range with its IT infrastructure is worthwhile. External service providers also have the staff and capacity to handle seasonal peaks or sales promotions smoothly and at high service levels. Fashion fulfillment by a professional service provider can therefore also be a sensible option for e-commerce stores with frequently changing collections.
What do customers expect from fashion fulfillment?
Overall, numerous factors play an important role in the fulfillment of fashion products. In addition to the actual product, shoppers also have high expectations of quality and service when it comes to packaging, shipping, and returns. E-commerce retailers have to meet these demands in order to survive in the ever-growing and highly competitive e-commerce market in the long term. If you are looking for a reliable fulfillment partner, please contact us. Thanks to our broad network of 850 locations throughout Europe, we can always find the perfect solution for you and your business.