Since millions of people actively store on Amazon every day, it is even more important for online stores to bring their products to Amazon Marketplace and market them there. What is particularly unique about Amazon is the fact that you as a seller can choose whether you want to handle fulfillment yourself or hand over the entire handling to Amazon directly. Specifically, Amazon sellers have the following options:
FBA: Fulfilled by Amazon

FBM: Fulfilled by Merchant

SFP: Seller Fulfilled Prime
To learn more about FBA, just read on here During the Corona pandemic, the limits of Amazon's internal capacity were exposed - many sellers with products deemed non-essential faced up to 30-day delays because they relied solely on FBA. As a result, customers were bailing and brand trust was shaken. In this blog post, we at Warehousing1 have summarized everything you need to know about FBM and SFP to help you set up your fulfillment strategy in a sustainable and scalable way.  
How does fulfillment by merchant (FBM) work?
The principle of this model is that the merchant/seller itself is responsible for the fulfillment of orders offered on Amazon Marketplace. This, in turn, can be handled in-house or through an external fulfillment service provider.
If you are placing your products on Amazon for the first time, you probably have no choice but to start with FBM as a first step anyway. Why is that? FBA requires some approvals. In addition, Amazon first checks at what speed your products sell, as you can see from our blogpost about the disadvantages of FBA. Especially as a small online store FBA is probably out of the question because not all of Amazon's requirements are met yet.
So what are the concrete advantages of FBM?
You don't have to worry about meeting Amazon's strict FBA requirements.

  You can control the logistics yourself, get an overview of the most common reasons for returns and receive valuable customer feedback. 

With FBM, you also have to cede less margin to Amazon compared to FBA - which is around 15% with FBA.

15 %

liegt.
Who is Amazon FBM suitable for?
Again, there is no no-size-fits-all for all businesses. Especially if you're serving low margins, FBM is a more attractive solution than FBA - because: Depending on the product category of your SKUs FBA costs can be relatively high.
Important note: If you choose FBM, you will not (immediately) receive a Prime badge. This can have a negative impact on your Amazon ranking, as Amazon sellers with Prime badge will be ranked more prominently. Remedy for this problem is Seller Fulfilled Prime - which we will introduce you to in the next step.
Combine the advantages of Amazon FBA and FBM 
Yes, this is usually possible. Especially if you offer a wide variety of products and have varying profit margins, you should consider getting the best out of FBM and FBA respectively. For example, for products with a high sell-through rate and a high margin, FBA is more profitable.
In practice, both variants are also used in parallel. A study by Jungle Scout shows that while the majority of Amazon sellers opt for FBA, 6% only use FBM, a third choose a combination of FBA and FBM. Especially during the Covid19 pandemic, many sellers partially switched to FBM. Normally, FBA products were displayed higher in the Amazon ranking than FBM products. The change caused this preference to be removed because orders could be fulfilled more quickly via FBM.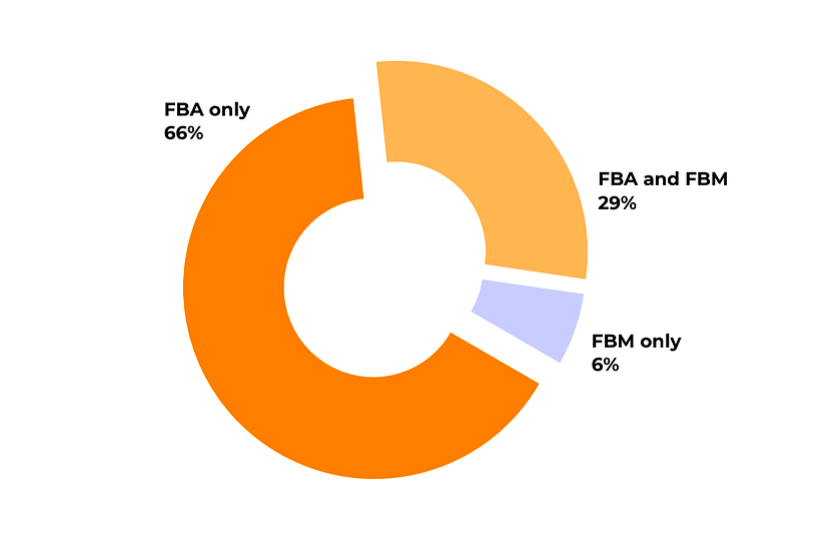 Source: DataFeedWatch according to Jungle Scout research
How does Seller Fulfilled Prime (SFP) work?
With SFP, you as a business allow a 3PL providerto ship your products from their warehouse to the customer via Prime shipping. The shipment has to be made within 2 days according to Amazon Service Level Agreements (SLA). 
The advantages of Amazon SFP
Similar to FBA, it is also necessary to meet certain requirements for SFP. Amazon Seller Fulfilled Prime is the ideal solution if you want to maintain control over your margins and branding, not depend on Amazon, and also not give up the Prime badge.
There are numerous benefits that come to you as an online store owner by choosing SFP as your eCommerce fulfillment solution:
You get the Prime badge, which ensures trust on the part of customers.

You benefit from Amazon's customer service.

You get more control over your fulfillment processes than you would with FBA.

By using your own warehouse or that of an external logistics partner, you keep track of your fulfillment.
You need to meet these requirements for SFP
 Are you considering SFP as an eCommerce fulfillment strategy for your business? Then there are some requirements to meet. After all, Amazon expects your business to be able to deliver on the sales promise that comes with the Prime badge: 
You need a professional seller account on Amazon.

Your orders reach customers on time at least 99% of the time.

Your order cancellation rate is less than 0.5%.

You must use Amazon BUY Shipping Services for at least 99% of your orders.

Prime deliveries must be handled through licensed Amazon Prime partners.

Be sure to agree to Amazon's return policy and incorporate it into your fulfillment setup.

Also agree that all customer service requests may be answered by Amazon itself.
How to get started with SFP
To get started with the Seller Fulfilled Prime application process, first and foremost, you need to register as a seller and successfully complete the trial period. The trial period is a kind of precautionary measure taken by Amazon to ensure that you can deliver on time and your cancellation rate is below 0.5%.
Currently, there is a waiting list for the SFP program. Below is a list of steps to take once the window for applications reopens:
Register your business on the Amazon SFP website.

Enable the Prime shipping option in your settings in SFP Seller Central.

List all the SKUs you want to transact through SFP in the Prime shipping template.

Make sure you can meet and fulfill all important deadlines and shipping conditions during the trial period.
Conclusion
FBM and SFP bring your business more control over its own fulfillment. While FBA requires you to rely entirely on Amazon, the other two options give you more room to maneuver, whether it's due to unforeseen events like a pandemic or even regarding the design/branding of your products as well as packaging. To ensure a high level of customer satisfaction, offering a Prime badge is now a standard in consumer behavior and accordingly highly recommended. So, to succeed as an Amazon seller, you should definitely aim for SFP with aPrime badge. 
Would you like to qualify for Amazon Seller Fulfilled Prime (SFP)? Warehousing1 is the perfect contact here. In our partner network with more than 750 locations in Germany and Europe, you will find about 150 logistics providers who specialize in Prime shipping and can also meet all of Amazon's requirements. Save yourself the tedious fulfillment provider search and let the experts help you - we look forward to your inquiry.