Shopware
Are you searching for a fulfillment company that can connect to Shopware? Contact Warehousing1 now.
About Shopware
General information
Shopware is a German company founded by Stefan and Sebastian Hamann. The brothers started as an internet agency in 2000 and received an order to implement a B2C store system for a customer in 2003. As a result, they recognized the opportunity to sell their software to other companies as well. In 2010 Shopware launched the open source Community Edition.
FAQ
What functionalities does Shopware offer?
Shopware offers, among other features, a clean and simple product management interface, easy order management, fully customizable store design and integrated SEO functions.
How do I connect Shopware to a WMS/LVS?
In the case of Shopware, there are for example plug-ins to JTL, Pickware and Billbee. With Warehousing1, you can even establish an interface to all other common warehouse management systems.
How much does Shopware cost?
The Community Edition of Shopware is free of charge. The Professional Edition offers additional CMS functions and has a retail price of €2,495. The latter can alternatively be rented for €199 per month.
Is Shopware the right store system for you?
Thanks to its modular structure, Shopware is suitable for all types of businesses. For startups, the free version is a solid solution to begin with, while enterprise customers may choose to use the Professional Edition.
Who provides fulfillment with Shopware in Germany and Europe?
There are several service providers in Germany that can do fulfillment for an Shopware online store. To find the suitable offer, simply contact Warehousing1 without obligation.
Interface with Warehousing1+
No setup fees for integration and customized dashboard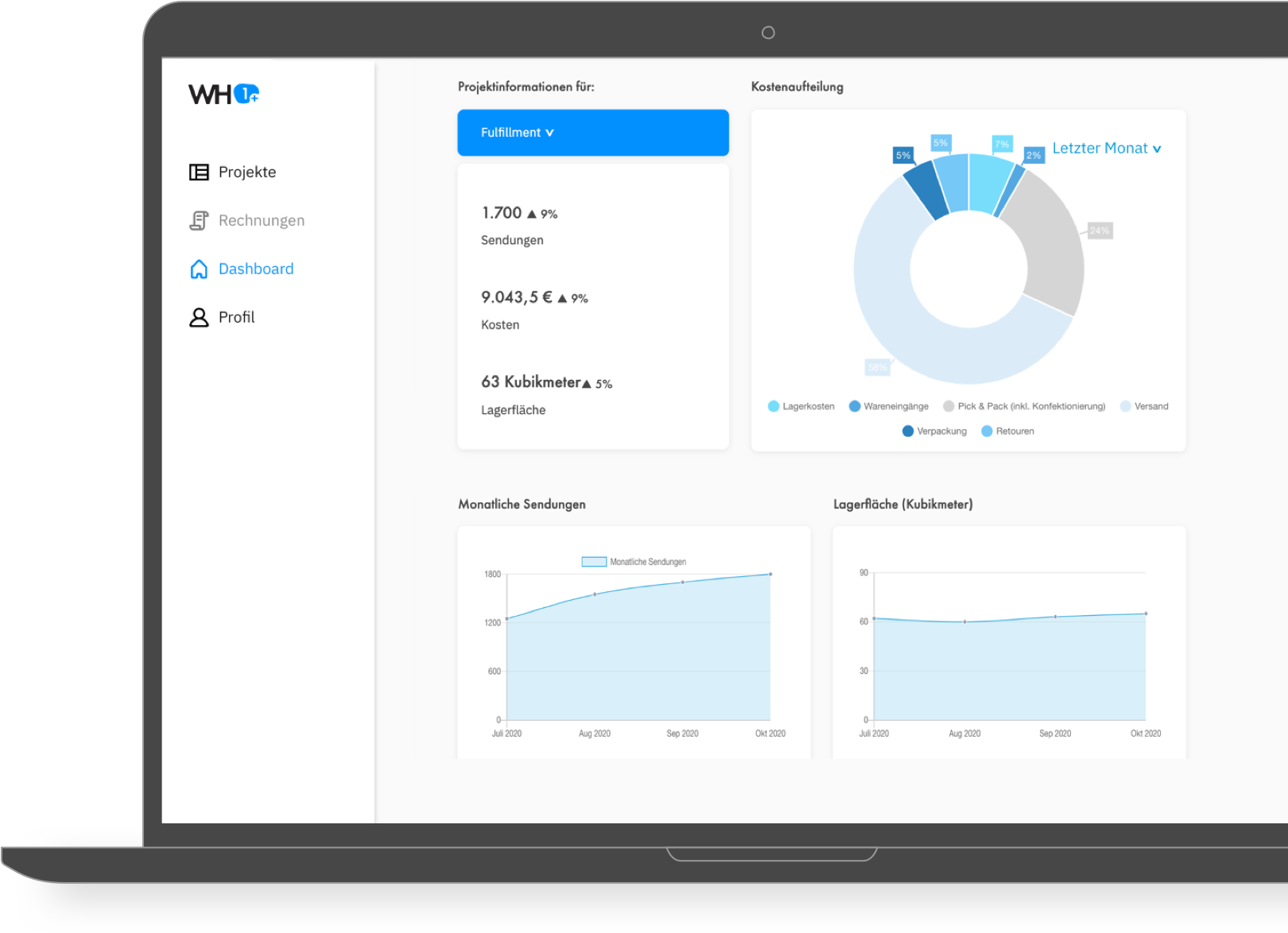 Rapid connection to Shopware without setup fees
Warehousing1 can integrate your Shopware online store within just five business days, thus ensuring a quick start to fulfillment.
Customized dashboard
Monitor the entire fulfillment process through your customized dashboard: from goods receipt, to order processing status, to returns management.
Your advantages with WH1+
Fulfillment has never been so easy and reliable
Seamless connection
Your shop system is connected easily and quickly
Customized dashboard
Stay up to date with real-time analysis of individual KPIs
Delivery in 1-2 working days
Late cut-off times and pick-up several times a day enable next-day delivery
"Without Warehousing1, we would not have been able to continue handling the processing of orders and the operational logistics for our products. Warehousing1 kept all promises, helped us very quickly with a logistics solution tailored for us and also took into account extra requests such as Amazon Prime shipping. I am very happy with the quality of the service and the uncomplicated cooperation with the responsible account manager."

Anno Skriver,
founder and CEO of Vevox Medical Sourcing

"After several weeks of searching for a suitable warehouse logistics provider, we luckily came across Warehousing1, who helped us search and find a provider that was right for us very quickly and efficiently. Warehousing1 helped us find the ideal fulfillment provider that not only offered great customer service, but was also affordable for a startup like us. We are extremely happy with the solution - thanks again for that!"

Silke Bender,
Co-Founder of Bix Hydration

"Warehousing1 was able to put us in touch with a new fulfillment partner in the shortest possible time, who not only met our exact requirements, but was also able to fulfill our desired conditions perfectly. Thank you very much!"

Calvin Schindler,
Managing Director at Elimba

"Without Warehousing1, we would not have been able to continue handling the processing of orders and the operational logistics for our products. Warehousing1 kept all promises, helped us very quickly with a logistics solution tailored for us and also took into account extra requests such as Amazon Prime shipping. I am very happy with the quality of the service and the uncomplicated cooperation with the responsible account manager."

Anno Skriver,
founder and CEO of Vevox Medical Sourcing

"After several weeks of searching for a suitable warehouse logistics provider, we luckily came across Warehousing1, who helped us search and find a provider that was right for us very quickly and efficiently. Warehousing1 helped us find the ideal fulfillment provider that not only offered great customer service, but was also affordable for a startup like us. We are extremely happy with the solution - thanks again for that!"

Silke Bender,
Co-Founder of Bix Hydration