Retailers need to ensure that they have a smoothly running fulfillment setup. For e-commerce businesses in particular, warehousing, picking, packing and especially the fast shipping of items play a significant role. Equally important is a flawlessly functioning returns processing – wich according to parcelLab is ripe for improvement in Germany. Fulfillment is an important lever for customer satisfaction and company growth. Depending on the volume of shipments, it may be worthwhile to hire an external service provider. For operators of fast-growing online shops, it is a strategic decision to either opt for in-house warehousing or external fulfillment. However, the factors involved in selecting a suitable service provider are many and varied.
We've summarized the key differences between in-house and outsourced fulfillment so you can make an informed decision.
What does external fulfillment mean and who should consider it?
For e-commerce stores and omnichannel retailers – those that sell their products through multiple channels – there are generally two ways to organize fulfillment.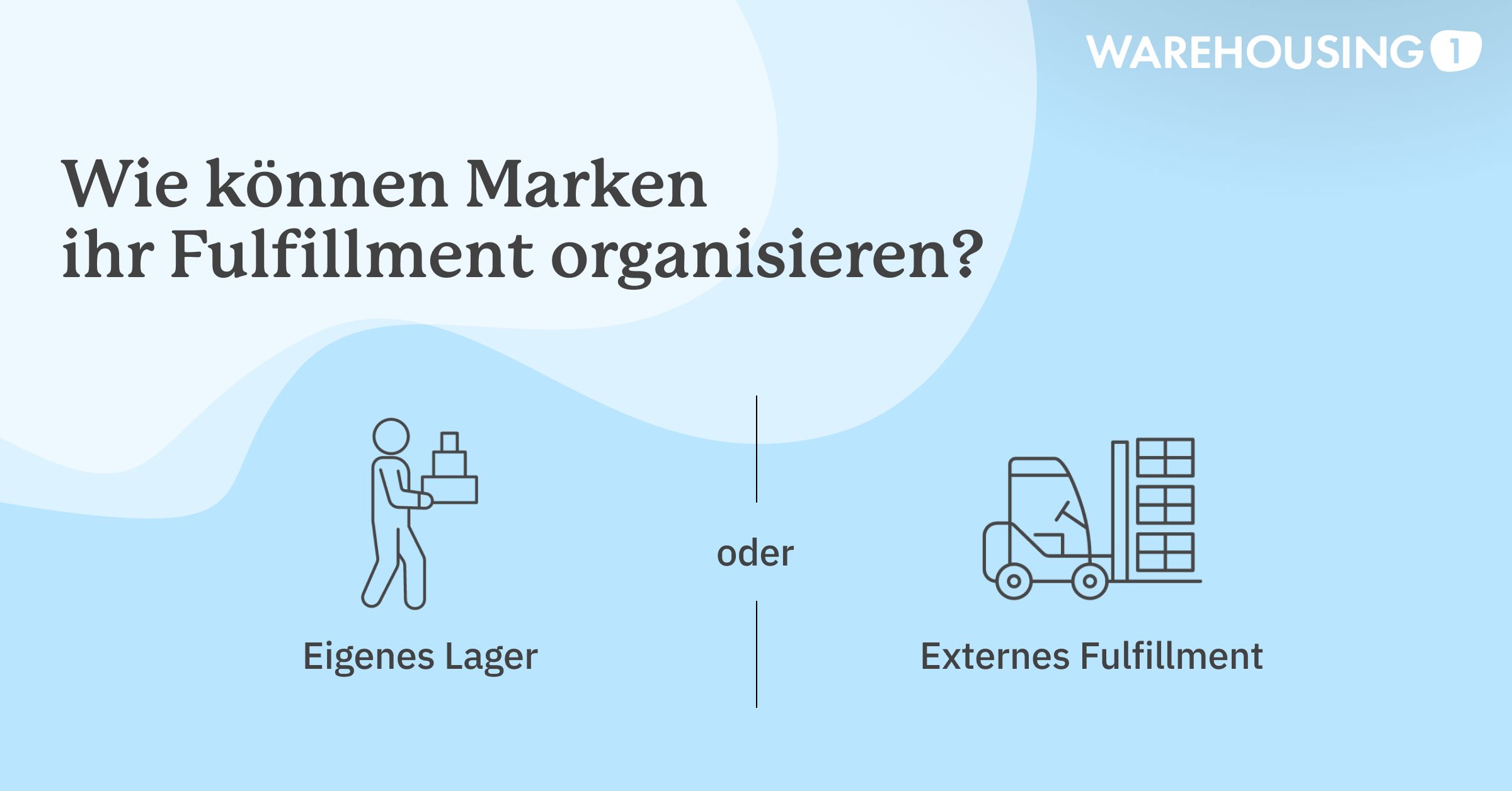 Which options do online shops have?
Especially when an online shop has just been launched and only a few orders per week need to be fulfilled, it can make sense to handle fulfillment in-house – maybe even from the office. This way, shop operators learn a lot about the requirements of e-commerce fulfillment. It can also keep costs under control in the beginning. But at the latest when you have to hire the first employees for fulfillment, it is worth looking for an external logistics service provider.
The goal is to find a balance between low costs and high performance. The easiest way to do this is by outsourcing to logistics and warehousing service providers. But what exactly are the tasks of external warehouse operators?
External fulfillment service provider
In e-commerce, the trend is increasingly developing towards outsourcing. It doesn't matter much for the implementation whether it's about a few hundred parcels a month or a day. Above all, the fast and reliable handling of parcels convinces retailers of the advantages of outsourcing the processes to an external service provider. Logistics providers not only handle shipping and storage, but also important additional services such as product photography, returns control or invoice management. High order volumes and the storage of larger quantities are no longer a problem.
Difference between external fulfillment and own warehouse
With in-house warehousing, all these tasks have to be organized and handled by the online retailer themself. But what exactly are the advantages and disadvantages of the two types of storage?
Warehousing1 has identified the most important aspects for decision making and compared both variants:
Costs
The start of your own warehousing operations first involves high investment costs: real estate, equipment, necessary software and much more must be acquired before the first order can be picked. With outsourcing, these investments do not apply. This is because the service provider already has its own equipment. In addition, fulfillment service providers have a large number of customers and can therefore make optimal use of capacities through diversification. Warehouse staff are always working to capacity and the warehouse is rarely empty. Especially through Dropshipping you enjoy low financial risk while having a large inventory. Generally speaking, retailers save 5 to 15% through outsourcing compared to operating their own warehouse.
Effort
Planning the logistics of an online shop also takes a lot of time. Fulfillment requires a lot of expertise to be implemented well and effectively. While shop operators can acquire this expertise, the path to gaining it is long and comes with many mistakes along the way. It should not be underestimated that personnel must also be hired and properly trained. By using an external service provider, companies can focus more on growth and the core business.
Control 
An own warehouse naturally offers the possibility for almost complete control of the processes, as well as the proper execution of quality controls according to the own requirements. Using external service providers means relinquishing part of that control. This means you must trust your service provider. Digital tools can help improve management and control capabilities. Good logistics service providers offer dashboards to enable customers to keep track of goods movements, order quantities and returns of goods.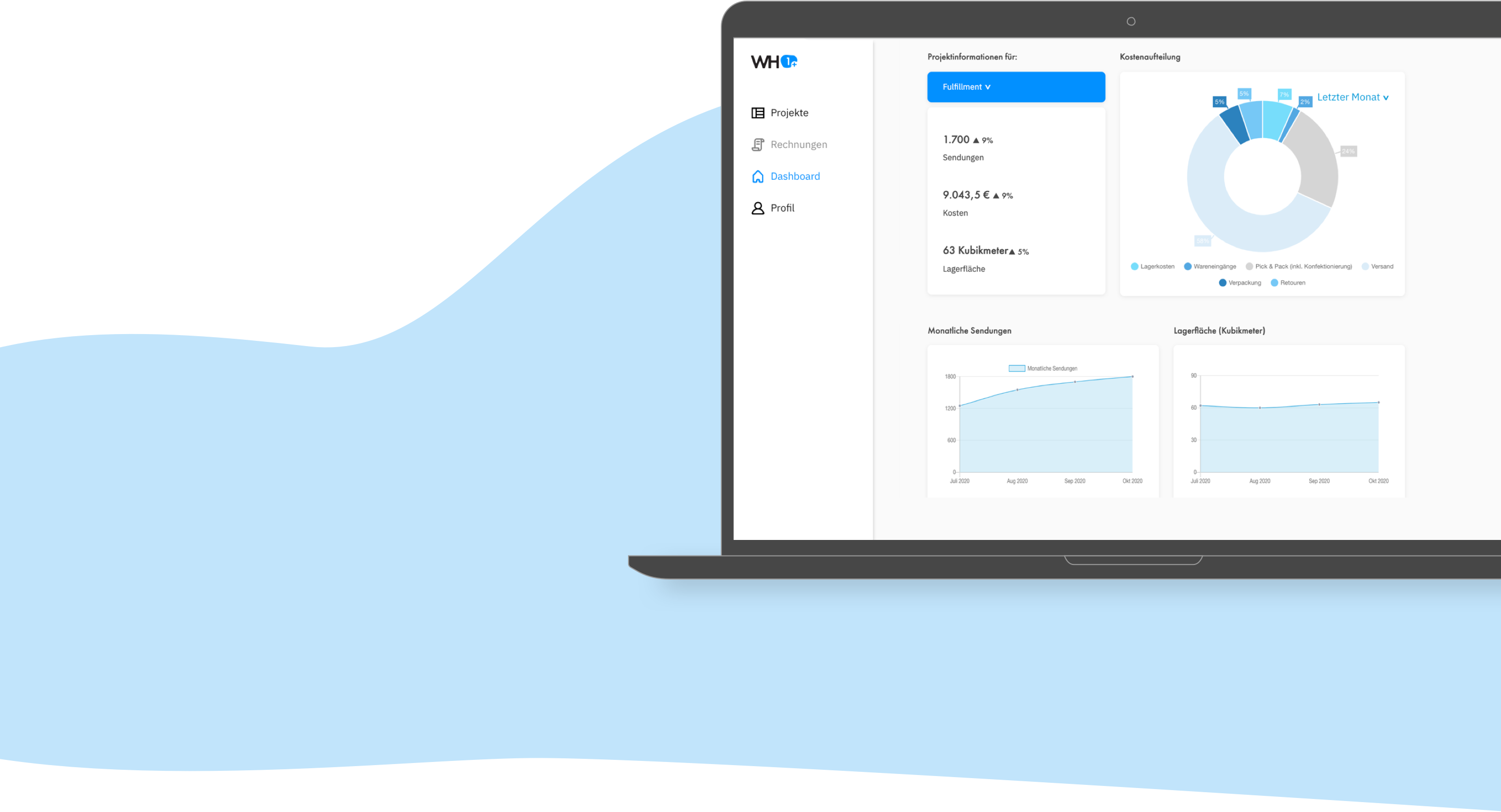 Warehousing1's dashboard view for customers
Scalability
If you take over purchasing, warehouse planning, warehouse logistics and shipping yourself, you will incur monthly fixed costs for renting warehousing space and employing personnel. In addition, retailers should plan purchasing in such a way that important items are always in stock and no delivery bottlenecks occur. In order for fulfillment and all logistics processes to run cost-efficiently, it must be possible to adjust capacities to current demand. Outsourcing to an external warehouse eliminates fixed and personnel costs, as well as the extensive planning effort. Logistics-on-demand allows e-commerce retailers to pay only for the capacity they use. This allows them to scale demand and save costs.
Advantages and disadvantages at a glance
The advantages and disadvantages of external fulfillment and in-house fulfillment can be summarized as follows:
External fulfillment service provider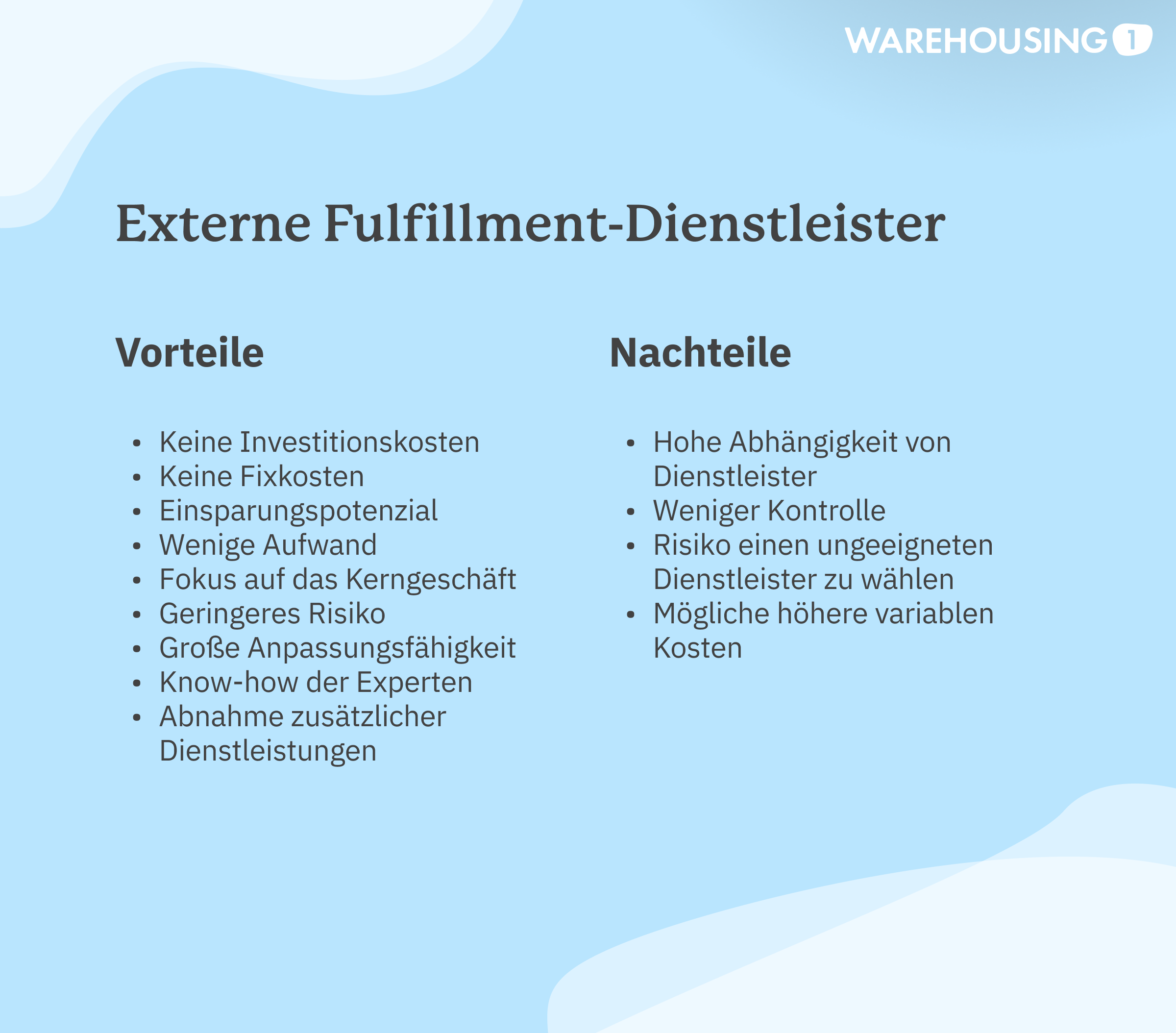 Advantages and disadvantages of external service provider as an overview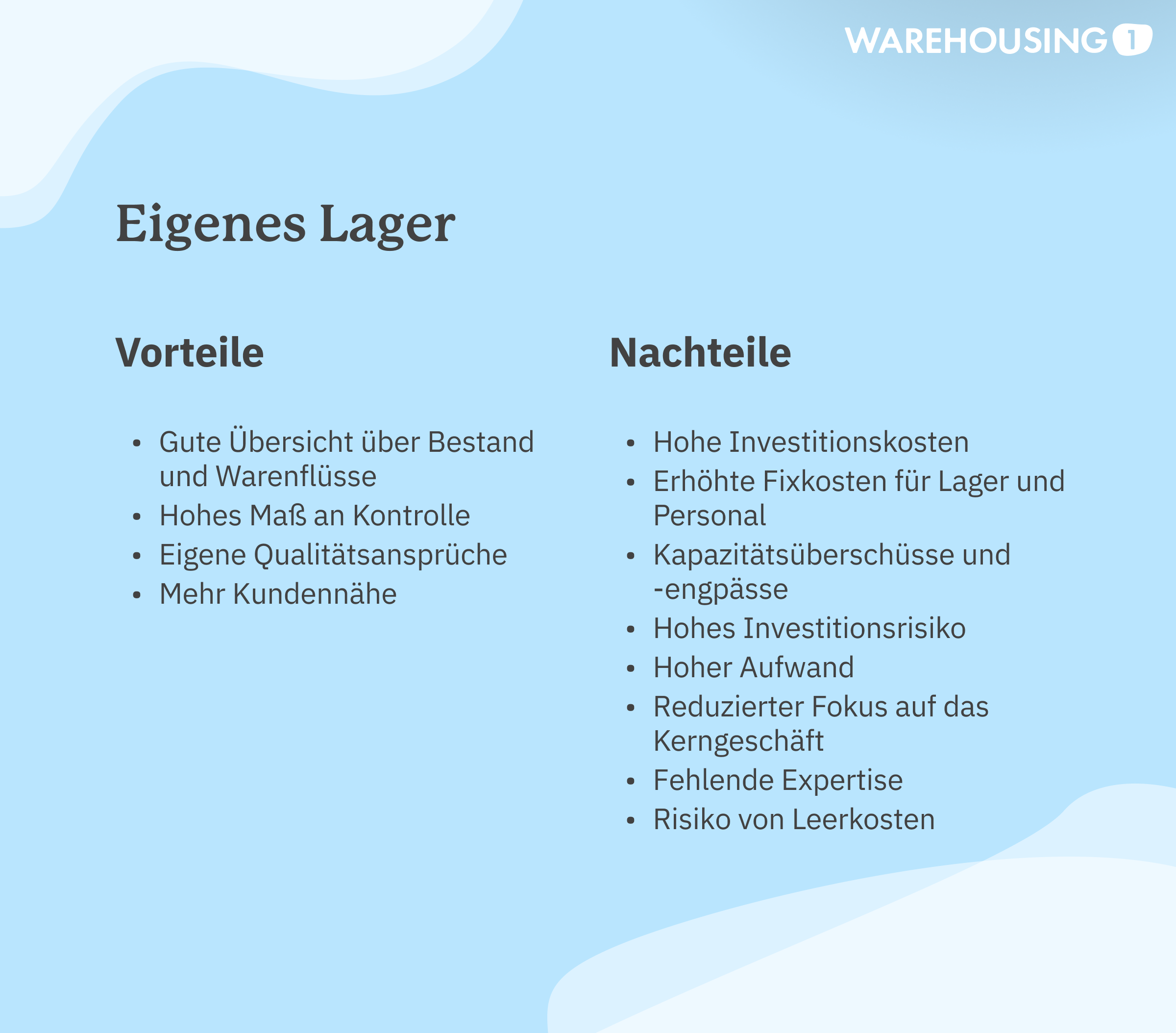 Advantages and disadvantages of an own warehouse as an overview
What is the right fit for my company?
A concrete recommendation can only be made on a case-by-case basis. Retailers who have considered all the aspects listed above should be able to make an informed decision. Above all, the factors of cost, effort, control and quality provide a strong indication of the right type of storage – in-house or outsourced. External service providers offer small and medium-sized companies a lot of flexibility, high quality and keep especially the capital lockup on the part of online retailers low.
How can we help?
Warehousing1 is happy to support you in implementing the logistics of your online shop. In an initial meeting, we can go into exactly what your challenges are and how they can be solved. Using our network of over 850 warehouse locations, we will identify the perfect logistics solution. By selecting the optimal warehouse locations and processes, you can reduce costs for fulfillment by up to 50%. Arrange a meeting today and we identify the perfect fulfilment solution for you. By choosing the optimal warehouse locations and processes, you can reduce your fulfilment costs by up to 50%. Arrange a meeting today.