Berlin-based logistics startup receives investments worth over 10 million euros
The investors: Schenker Ventures, Aster Capital, Wille Finance, HV Capital and Base10 Partners
New capital earmarked for technology expansion and employee growth
---
Berlin, 07 April 2022 – Warehousing1the Berlin-based logistics startup for efficient e-commerce fulfillment, has secured more than 10 million euros in funding following its series A financing round. The startup, founded in 2018, adds three new investors: Schenker Ventures from Essen, Germany, Aster Capital from Paris and Wille Finance from Zurich. In addition, existing investors HV Capital from Munich and Base10 Partners from San Francisco are further increasing their investment.
Warehousing1 offers fast-growing e-commerce brands end-to-end fulfillment services through its extensive partner network with locations in Germany, Europe and the US. Warehousing1 wants to double its headcount to more than 100 people to support its ambitious growth targets. By the end of 2022, the startup aims to more than triple its eight-figure revenue. With the new capital, the company intends to invest heavily in its technology and product to further drive its medium-term goal of building a largely SaaS-based business model and becoming a market leader for offering best-in-class digitally managed fulfillment solutions to e-commerce companies.
Strong investors support company's development
"Since our founding, we have wanted to work with investors who support our development with their expertise, instead of just handing us money. With Aster Capital, Wille Finance and Schenker Ventures as strategic investors, we have gained exactly such partners," explains Nils Aschmann, co-founder and CEO of Warehousing1. "Warehousing1 is already creating real added value for hundreds of active customers in the booming e-commerce segment. In the future, we want to digitalize the fulfillment experience for many more brands and thus help them satisfy their customers with first-class logistics processes in the long term."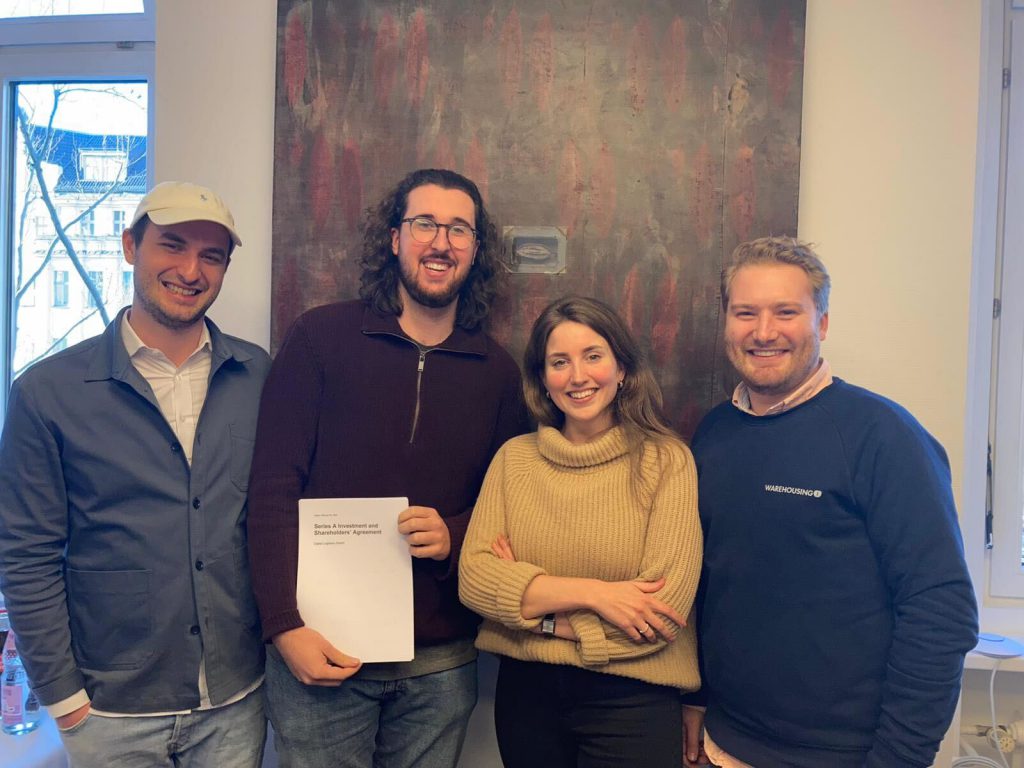 Warehousing1 is the first venture capital investment for Schenker Ventures, the investment arm launched by DB Schenker, a leading global logistics service provider, in 2021. As an active investor – and with the parent company's strong network – Schenker Ventures will support the development of the startup with its expertise.
Patric Hoffmann, Head of Schenker Ventures, comments: "We want to increase the innovative strength of the logistics industry as a whole. Therefore, our venture capital activities focus on startups that we can support not only financially but also with know-how and network. The Warehousing1 team has more than convinced us and we are very much looking forward to working together."
Helping the booming e-commerce sector grow further
Warehousing1 has set out to support e-commerce companies in their long-term growth with scalable fulfillment. The startup offers everything from warehousing and order picking to various value-added services via its decentralized international partner network.
Under the leadership of the new CTPO Leandro Loiacono, previously Group CTO of the French flagship startup Sendinblue, Warehousing1 continues to develop its product portfolio from a tech perspective. Among other things, Warehousing1 enables integrations of various shop systems with warehouse management systems. In doing so, the company is digitalizing the management of the entire fulfillment process, even for systems and system combinations where the options for digital control were previously limited.
You can find more information and images in our Media Kit on our Website.
---
About the investors
Aster Capital
Aster Capital is a leading early-stage venture capital fund with offices in Paris and London. Over 20 years, the fund has partnered with 80 portfolio companies, driven by the ambition to transform the most carbon-intensive industries (energy, building & construction, transportation & logistics, manufacturing, etc). Aster Capital is strongly committed to fast-tracking the vision of all its founders by giving them immediate access to mentorship and a global network. Learn more at www.aster.com.
Base10 Partners
Founded by Adeyemi Ajao and TJ Nahigian, Base10 is a San Francisco-based venture capital fund investing in founders that believe purpose is key profits and are automating sectors of the Real Economy, including transportation, healthcare, retail, logistics, and construction. The Advancement Initiative, Base10's growth-stage fund, donates 50% of profits as scholarships to Historically Black Colleges and Universities. Portfolio companies include Notion, Figma, FTX, Nubank, Nowports, KeepTruckin, Chili Piper, and Popmenu. Connect via base10.vc.
HV Capital
Since 2000, HV Capital has invested in Internet and technology companies through various generations of funds and is one of the most successful and financially strongest early-stage and growth investors in Europe. HV Capital has already invested in around 200 companies, including Zalando, Delivery Hero, FlixMobility, Depop and SumUp. The total of all HV Funds amounts to €1.7 billion. The company supports startups with capital between €500,000 and €50 million. This makes HV Capital one of the few venture capitalists in Europe that can finance startups through all growth phases. Learn more at hvcapital.com and @hvcapital.
Schenker Ventures
Schenker Ventures supports founders in building trailblazing companies in logistics and supply chain management. Beyond capital, founders benefit from maximum entrepreneurial freedom, functional support, and access to the global network of DB Schenker , one of the world's leading logistics providers. Warehousing1 ideally fits Schenker Venture's investment thesis as its venture capital activities focus on B2B XaaS solutions in LogTech, with entry ticket sizes of 0.5 to 5 million Euro in Seed to Series B.
Wille Finance
Wille Finance AG is a family office founded in 2007. With a team of more than 20 people, it invests in venture capital and private equity, real estate, digital media and listed companies. Within venture capital and private equity, Wille invests in growth companies and buy-out transactions with a focus on software and life science companies. The geographical focus is on Europe and Israel. Wille Finance AG is a long-term investor and reliable partner for entrepreneurs. The portfolio currently comprises more than 35 companies, 18 of which are in the software sector. Learn more via. www.willefinance.com.