The beauty and cosmetics industry is undoubtedly one of the largest and fastest growing industries in the world. Digitalization and increased online purchasing of beauty products have revolutionized the industry. In 2022 alone, the global cosmetics market recorded an impressive growth of over 15 percent year-on-year and currently generates a whopping $93.05 billion in revenue.
But the industry also brings specific challenges – especially in logistics. In this blog article, we will take a closer look at how you, as a store owner of beauty & care products, can deal with the industry's challenges in the area of fulfillment.
Table of contents:
Challenges in storing and shipping beauty & care products
The proper storage 
Products with organic or natural ingredients can spoil if not stored correctly. Product spoilage can lead to dissatisfied customers or missing goods. Specialized fulfillment providers ensure that products are shipped quickly and under the right conditions.
In view of the perishable nature of products, it is essential to always keep a clear overview of your inventory. Orders that cannot be fulfilled and goods that are left lying around are real cash flow killers. With the help of a dashboard you are always up-to-date and can manage your merchandise optimally.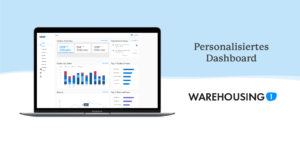 Stable packaging

Packaging must not only protect your products during transport, but also reflect your brand identity. High-quality and aesthetically pleasing packaging increases the recognition value of your brand while ensuring the protection of your products.
Fast shipping
Short delivery times are particularly desirable in the beauty and care industry. Driven by impulse purchases or the spontaneous purchase of a missing beauty product before an important event, customers often expect fast delivery times. With tracking via a customer portal create transparency for your customers and save time in customer service.


Due to individual preferences and skin reactions, beauty products are often returned. Efficient returns processes are crucial to make the return process smooth. Here, too, a customer portal can take work off your hands and provide customers with the individual steps for professional returns.
International shipping
Advantages of efficient fulfillment for beauty & care products
Delivery times
Same-day fulfillment and optimized processes ensure fast delivery, which is particularly appreciated in the beauty industry.
Customer loyalty
Effective fulfillment with real-time tracking provides visibility and helps create a positive customer experience and increase customer loyalty.
Cost reduction
Costs can be saved by automating inventory management, order processing and shipping logistics.
Conclusion
The beauty & care industry offers a lot of potential for rising e-commerce retailers. Sensitive products, special storage conditions and fast shipping are just some of the aspects that need to be considered. Together with experienced fulfillment providers, we help you successfully master these challenges and create sustainable customer relationships. Arrange a consultation for your fulfillment challenges now!