Q2 is coming to an end and Q4 is getting closer - in e-commerce this means: Make preparations for the peak season. Find out what you should consider when setting up your logistics to keep your clientele happy in this blog article.
Table of contents:
Fast delivery for more customer satisfaction
Fast delivery is a decisive factor for customer satisfaction in e-commerce. According to Sendcloud's e-commerce statistics 2023, 45% of shoppers cancel their order during checkout because the delivery time is too long. Especially in the stressful pre-Christmas period, speed is essential - if delivery times are too long, shoppers will look for an alternative.
But what's important to guarantee fast delivery? Make sure your fulfillment provider offers late cut-off times and fast turnaround. Also, choosing a good shipping provider should not be underestimated. With almost 50 % package volume, DHL is number one in Germany when it comes to shipping. For international deliveries, UPS and FedEx are ahead.
Do you still handle your own fulfillment? Consider switching to an external service provider. This not only gives you more time to focus on other areas such as marketing and customer satisfaction, but also allows for scalability and flexibility to meet the increased demand in the run-up to Christmas.
Transparency builds trust
As we approach the fourth quarter, transparency within the supply chain - already important - is becoming increasingly important. Regular status updates are crucial, not only to maintain your customers' anticipation, but also to build sustainable trust that the ordered goods will be delivered to their doorstep on time.
So offer a tracking system that keeps your customers informed at all times – whether it's an order or a return. With the help of a customer portal you can not only save time, but also increase your customer satisfaction.
In order to provide your customers with the most up-to-date information, you should also always be up to date. With the help of our personalized dashboard you have all important data at a glance - and in real time. This allows you to improve the efficiency of your supply chain, identify bottlenecks at an early stage and react proactively. 
With a transparent tracking system and a personalized dashboard, you are well equipped to provide your customers with the information they need, when they need it.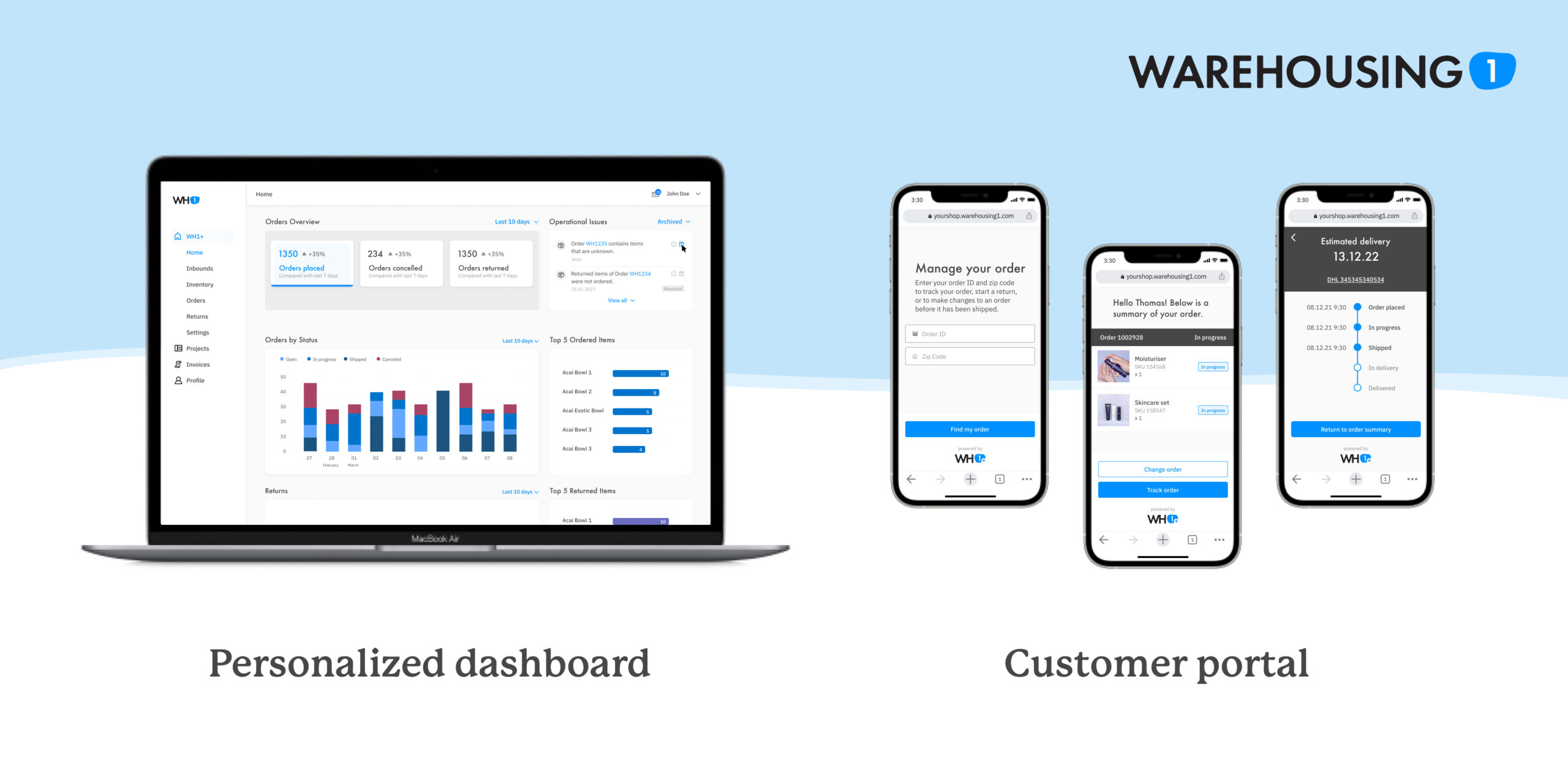 Effective return handling
In addition to status updates, a simple and hassle-free returns process is standard for most customers these days. After all, they not only want to make sure that the gifts for their loved ones arrive on time, but also that they can be returned as painlessly as possible in case of need.
A solid returns management system is essential to efficiently process customer returns. The implementation of a user-friendly returns portal enables your customers to process their returns independently. With a returns portal, your customers can easily and conveniently submit their returns requests, print out return labels, and track shipments. By automating the returns process, you save time and resources while providing your customers with an efficient and transparent process.
Smooth returns management contributes to customer satisfaction and strengthens your image as a reliable supplier.
That little extra
In times of TikTok, Hauls and "Unpack with me" videos, the design of your packaging is more relevant than ever. A good packaging design leaves a lasting impression and gives your brand a high recognition value. By enclosing flyers or free products, you can enhance this effect and give the unpacking that extra special touch.
Q3 and Q4 offer the perfect opportunity to design your shipping packaging to match the occasion. With special designs and matching filler material, you can create an atmospheric ambience for events such as Black Friday, Cyber Monday or Christmas, while standing out from the competition.
However, when choosing packaging, always have your target group in mind – even sustainable, no-frills packaging options can make a positive impression.
Conclusion
Careful planning is crucial to keeping your customers happy during the upcoming peak e-commerce season. With the points above, you'll be well equipped to successfully navigate this busy time and leave a lasting impression on your clientele.
Are you dissatisfied with your current logistics setup? You still have time to change in order to be optimally prepared for the fourth quarter. Our experts will be happy to assist you and advise you on how to keep your logistics running smoothly.